Russia's Homophobic Law Inspires Azerbaijani Political Elites
Among political actors in Azerbaijan, the anti-queer sentiments are on the rise. How much of a role does the legacy of Russian colonialism play in this?
A growing number of ruling party MPs and state agencies in Azerbaijan are openly embracing Russia's anti-LGBTQI laws. While no official draft law has been proposed in Azerbaijan's parliament, human rights defenders warn lawmakers may be encouraged and inspired by the changes happening in Russia.
"Azerbaijan must prohibit LGBT propaganda," MP Javanshir Pashazade said in support of the anti-LGBTQI propaganda bill adopted in Russia in December 2022. Pashazade, the brother of Sheikh Allahshukur Pashazade, often presents himself as the guardian of conservative values and frequently speaks about protecting "Azerbaijani traditions and mentality" in interviews. He was recently awarded the "Sharaf" order by Azerbaijan President Ilham Aliyev for his "long-term effective activity in the social and political life of Azerbaijan."
The adoption of Russia's anti-LGBTQI propaganda law is seen by some Azerbaijani politicians and elites as a way to maintain traditional values and resist Western influence. For instance, Pashazade has said "if Russia accepts this kind of a law, we, as a Muslim country, must accept one too."
Pashazade's ideas about copying restrictive Russian laws are not new, according to sociology researcher Togrul Abbasov. "Homophobia is widespread in Azerbaijan," he says. "Opinions about it have been voiced among parliament members before, and although it is not directly stated in the law, they say 'we must protect family values'… Such speeches have already been made from time to time before.
If the same law was adopted in Turkey, the reaction would be the same, if not even more."
Even law professors have argued in favor of a law banning homosexuality: Afsar Sadigov, a professor at Baku State University, told the newspaper Müsavat that Azerbaijan should not adopt the Council of Europe Convention on Preventing and Combating Violence Against Women and Domestic Violence — also known as the Istanbul Convention — a landmark human rights treaty.
"The Convention destroys traditional family values, and this is why a number of countries, rightfully so, exit it, do not ratify it, or just do not sign it. The country's strength depends on its family values' strength," he was quoted as saying. "We must never let Azerbaijan's legal system adopt the Istanbul Convention. There has to be some regulation against LGBT in Azerbaijan."
The founder of the Nafas LGBTI Alliance, Javid Nabiyev, says he has been questioning Russia's influence ever since the 2017 mass detentions of gays and trans women in Baku. He adds that Russia appeared to learn from the Chechen government targeting and detaining gay men and that practice has been "inspiring the political elites in Azerbaijan." 
"It is clear where the anti-LGBTQI+, including anti-feminist ideas are coming from — the 2000-2011 Russia," Nabiyev explains, adding that even the titles of some reports echo similar studies done in Russia.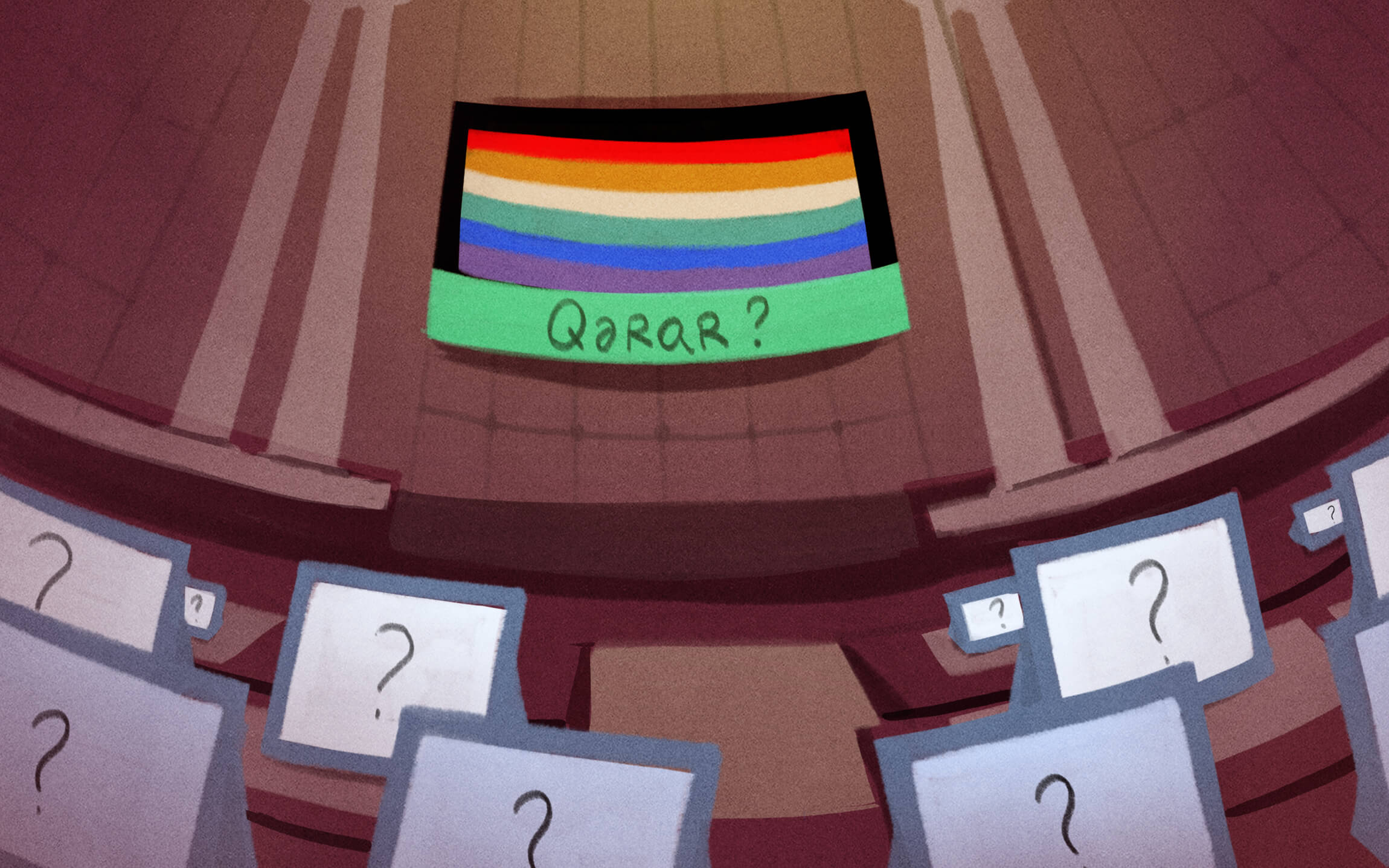 "The LGBTQI+ issue is one of the sensitive issues for the West, and regimes pursuing anti-Western policies do not hesitate to use their own LGBTQI+ citizens as tools for their own ends."
He adds that Azerbaijan uses Russian practices a lot. He notes a report, Existing family relations in Azerbaijan: Social-Psychological Analysis, which was published by the influential State Committee for Family, Women and Children's Problems of the Republic of Azerbaijan and the Social Research Center (SRC) in 2021. The report relies heavily on Russian authors who hold homophobic positions and view feminism as a mythical fight for equality.
The legacy of Russian colonialism has left a lasting impact on the country's political and social development since it reclaimed its independence, including its attitudes towards the LGBTQI community.
Some human rights defenders, however, underscore that while homophobia is widespread in Azerbaijan, the country has never aligned its LGBTQI+ policy with Russia in the past — and is unlikely to do so today.
Human rights defender Vafa Rustam points out that despite the fact that Azerbaijan and Russia have some similar laws, there are also many differences. "For example, the law on domestic violence exists in Azerbaijan and does not in Russia," she says. 
Tsarist Russia introduced strict rules prohibiting homosexuality in the 18th century although the law was abolished in Russia in 1918 and homosexual relations were legal in the Soviet Union until the 1930s. That was not the case in Soviet Azerbaijan, where homosexual relations were declared illegal in the 1920s and remained so.
Social researcher Abbasov notes that Azerbaijani and Russian societies have developed differently throughout the years. "The 1990s in the newly-independent Russia allowed for the creation and establishment of LGBTQI+ organisations, etc. If Azerbaijan followed Russia, the same would have happened [in Azerbaijan] but it did not," he says.
"Sometimes societies influence each other, but in this sense there is no such thing, the two societies have been developing independently [on this issue for] 70-80 years."
But LGBTQI+ activist Miray Daniz stresses that, de-facto, an anti-LGBTQI+ law similar to that in Russia already exists in Azerbaijan. "The non-approval of the law is merely for the image outside of the country," Miray states. "We live as if this law exists. We are always under surveillance by the police and other government agencies, we are always under pressure. There is almost no state institution that we can feel safe with, that protects us and thinks about us."
The original article was published here (in English) as well as in Azerbaijani
Illustrations by Aydan Hasanova