The unprotected: Police offer scant safety for Azerbaijan's LGBTQI+
20-year-old Emily Hajizadeh, a trans woman, feels like she is surrounded by threats.
20-year-old Emily Hajizadeh, a trans woman, feels like she is surrounded by threats. 
"I constantly receive threatening messages and phone calls from my family and relatives, warning me that I will be killed," she says. "It is very upsetting, but I can't go to the police to complain about it, because I'm not sure that my privacy will be protected."
Elnur Musayev, a social worker at the Gender Resource Center, which has provided psycho-social support to LGBTQI+ people in Azerbaijan since 2020, says that the police only take his clients' cases seriously if someone from the center goes with them—or if they appeal to a higher police official or publicize the case.
"When LGBTQI+ people go alone to police stations, policemen ask them questions about their personal lives. These questions are not related to the person's complaint. For example, they ask 'are you active or passive?' or 'do you have a girlfriend?', 'does your family know?'," he says, adding they sometimes even threaten to call the individual's family. 
"This causes people to feel uncomfortable and, in many cases, they do not report to the police."
Emily is a sex worker, which makes her even more wary of the police.
"Last time, my friend and I were chased by three people in Baku's fountain square [a prominent area in the center of the capital]…When we argued with them on the street, the police came and took us to the 9th department. Two of three who wanted to beat us ran away, and even though I told the police to bring them in, they didn't care," she says.
In Azerbaijan, the police are often accused of harassing and even torturing citizens – a recent case renewed allegations of police brutality and violent treatment of detainees. The issue has been noted in several international human rights studies, but the government denies there is a problem. 
In an interview with BBC Azerbaijan, Elshad Hajiyev, the spokesperson of the Ministry of Internal Affairs, denies the claims against the police, arguing that "more than 70-80 percent of the country is satisfied with the police.
While there is no public research or data proving this level of satisfaction, a recent survey conducted by the government-run Center for Social Research found that only 45.1 percent of those who took part in the survey trust the police. The survey, conducted in 2020, states that 4.5 percent of respondents reported that officials, including the police, had demanded bribes from them in the past.
For LGBTQI+ citizens, the dangers are higher: people report being humiliated, sometimes beaten, and mocked.
The 2021 report of the US State Department highlights police brutality against individuals based on sexual orientation. "LGBTQI+ individuals generally refused to file formal complaints of discrimination or mistreatment with law enforcement bodies due to fear of social stigma or retaliation. Activists reported police indifference to requests that police investigate crimes committed against LGBTQI+ individuals."
Emily experienced it firsthand when she was at the station, trying to get the police to deal with the men who had harassed her. 
"We went to the duty officer to write a complaint. However, the policemen in the department called the person who attacked us "brother," and kept us in the department for more than three hours," she says.
"In the waiting room, the police wanted to make fun of us…In the end, we ran out of patience and called our lawyer, so we were able to file a complaint."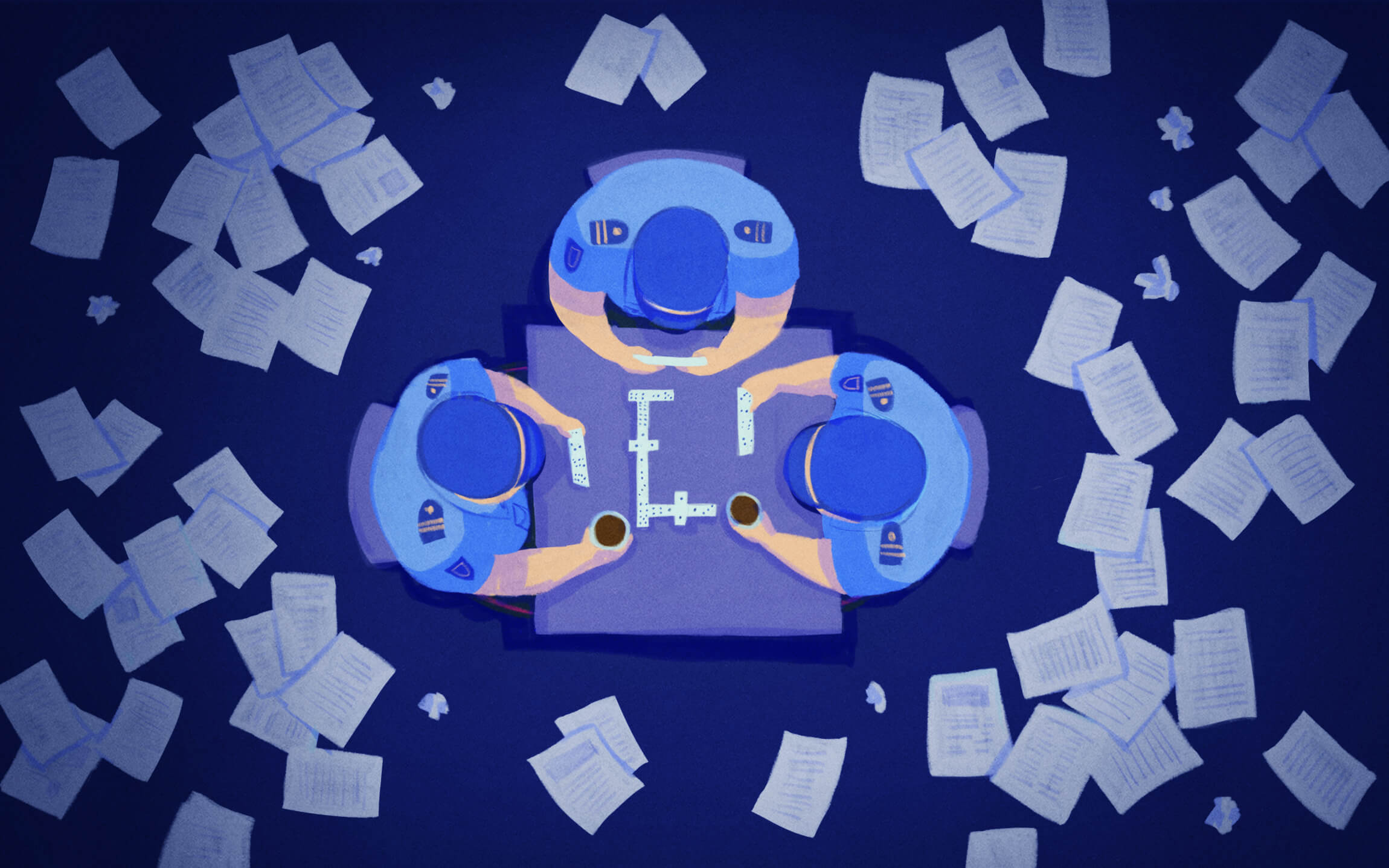 26-year-old Kamran, one of the founders of the queer initiative "Q-Collective", also struggled to get the police to take his complaint seriously after he and his friends were attacked. 
"It was October of 2021, when my friend and I were about to go home after drinking at a bar, three people started talking to us. We did not answer them in order to avoid an altercation," he recalls. But despite their efforts, a fight broke out. "They broke my friend's nose, knocked us down and beat us. I received injuries to my eyes and chest."
Kamran says there were police nearby but when he and his friend asked for help, they refused, saying 'this area is not under our authority.' The area, a reportedly queer-friendly street in Baku, borders two districts—Sabail and Yasamal—and police from both tried to avoid filing the case. 
They were finally able to make a formal complaint against the men who attacked them but their ordeal was not over: someone from the forensic department informed their families about the incident and their sexual orientation. 
"The morning after we were at the police station, we went to the forensics department for an examination. There, an officer looked at my identity card and asked me where I was from. It appeared that the doctor is from my hometown. So he used this information to inquire about my personal life, who I am and what I do," Kamran says. "Later, my mother received a call from my relatives, who told them about the examination. My mother worried about why they were interested in us, and why the police involved these people."
LGBTQI+ minors face even more challenges—the police sometimes force them to return to abusive family members or partners, notes Musayev, the social worker at the Gender Resource Center.
"People who have been abused are only directed to shelters after activists get involved," he said.
This article was originally published here