Unit works with 10 countries in Eastern Europe, South Caucasus and Central Asia, supporting publications on queer topics, connecting journalists and activists, and following the great work they do. Once monthly, we put together a selection of queer stories, opportunities, analysis and art to help you stay up-to-date with the ever-developing queer spaces without relying on social media algorithms. Check out this issue from June 2023 and subscribe below to get the next one right into your inbox.
Hello everyone! 
This is Vika Biran from the Unit team.
Let's start with some good stuff! The season of Pride marches has begun in various parts of the world. We in the team are quite critical about these events and know that often Pride marches, especially in rich European countries, are commercialized, not inclusive and not political enough. On the other hand, activists use these events as an opportunity to draw attention to the problems in their countries. For example, at a recent Pride Parade in Warsaw, which I was lucky enough to visit, a Belarusian column with protest white-red-white flags was spotted. In the instagram account of Volha Harbunova, a Representative for Social Issues in the Belarusian United Transitional Cabinet, a detailed post on why the former political prisoners decided to join the march, and why it matters, was published. In Moldova, the Pride Parade also took place and, according to the organizers from Genderdoc-M, attracted a record number of participants over the years. The programme for Tbilisi Pride Week has also been announced and is scheduled for July. By the way, I'm a fan of their logo – take a look too! It depicts Kinto, authentic non-binary characters from Georgian history.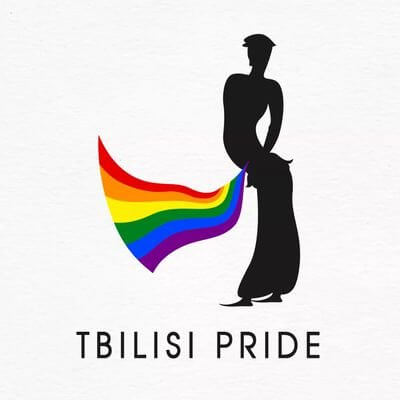 The other good news is that same-sex marriage has been legalised in Estonia. The websites of the world's leading media outlets present this move in different ways. For example, Deutsche Welle writes about Estonia as "the second Central European country" where this has happened. The first, we remind you, was Slovenia. France 24 points out that Estonia was "the first Baltic country" to allow non-heterosexuals to marry. CNN refers to Estonia as "the first ex-Soviet state" to legalise same-sex marriage. Whichever geopolitical perspective the media may take on this, one thing is clear – this legal innovation will make life easier for a large number of non-heterosexual people in Estonia. Congratulations! And may the rest of the countries follow suit. Meanwhile, let us destroy the patriarchal institution of marriage and allow all people to marry, regardless of their sexuality. Do you agree with me?
DasHip.media published an article by Maria Parkhimchik about Mitya, a Belarusian who has recently been living in Moldova and working at the Queer Café in Chisinau. The material, in my opinion, is an excellent example of cross-border journalism, because the life of a migrant in a country bordering Ukraine has a lot of intricate circumstances. You can't always influence them, but you do have to deal with their consequences. Maria's material gives us a glimpse of how Mitya does it – and that inspires great respect and admiration. Mitya, you are awesome! Congratulations to the editors of DasHip on this publication!
The forty-minute film "Queer in Kazakh" directed by Mutali Moskeu, an activist and creator of Qazaqueer media, has been released to the public in Kazakhstan. The film explores the theme of Kazakh identity through the issues of sexuality and LGBTIQ+. Experts in anthropology, sociology and human rights discuss folklore, the life of queer people in steppe and Soviet Kazakhstan and the causes of homophobia in Kazakhstan today. Our partners at The Village Kazakhstan talked to the author about queer, decolonialism, Kazakhstan – and predictions for improving the situation of LGBTIQ+ people's rights in the country.
And now, sadly, let's add some bad news into the mix, of which, as usual, there is also plenty.
Kazakhstan and Kyrgyzstan will now exchange personal data on citizens with Russia. Radio Azattyk reports that this data includes the residence status, citizenship, migration registration, visas, property, criminal records and identity documents of individuals living within their borders. The consequences of such cooperation can be found, for example, in the article on Azattyk. In short, it has become even less safe for activists and activists in these three countries.
Belarusian lawmaking has hit rock bottom again. A new treatment protocol has been developed, and the Criminal Code will ban, attention, "propaganda of non-traditional sexual relations, sex changes, pedophilia and childfree". Moreover, a mandatory course on sex education is to be introduced in schools (its curriculum in today's Belarus will by no chance be up-to-date). And all this is happening in the absence of, for example, a law against domestic violence. Blogger Nasta Zakharevich, in her column on Radio Svaboda, explains in detail what is wrong with these innovations. Belarusian activists are once again sounding the alarm.
Next time we will come back to you with news about our second thematic issue. What it's about is still a mystery, but together with our partners from different countries we are trying to make it as high-quality and multi-genre as possible.
Let's wrap it up with some good news! The founders of the Ukrainian Feminist Film Festival "Filma" have announced an open call and are accepting videos dealing with the themes of intersectional feminism (queer, decolonialism, anti-racism – all there), and created with feminist principles in mind. You can submit your entry until 20 July – and we think it's worth doing if you have the right film!
That's about it. I still wish victory to Ukraine and death to Russian imperialism.
Let's stay in touch,
Vika Biran