Unit works with 10 countries in Eastern Europe, South Caucasus and Central Asia, supporting publications on queer topics, connecting journalists and activists, and following the great work they do. Once monthly, we put together a selection of queer stories, opportunities, analysis and art to help you stay up-to-date with the ever-developing queer spaces without relying on social media algorithms. Check out this issue from March 2023 and subscribe below to get the next one right into your inbox.
As March is starting, we have a bit of our own news to share and seven important queer stories from last month we'd like to highlight.
With the rest of the donations gathered through our Steady campaign, we put together a parcel for queer journalists and activists in Kharkiv, Ukraine. Inside are 25 power banks with flashlights and solar panels, along with some rainbow vegan sweets. Huge thanks to our members on Steady for making this happen.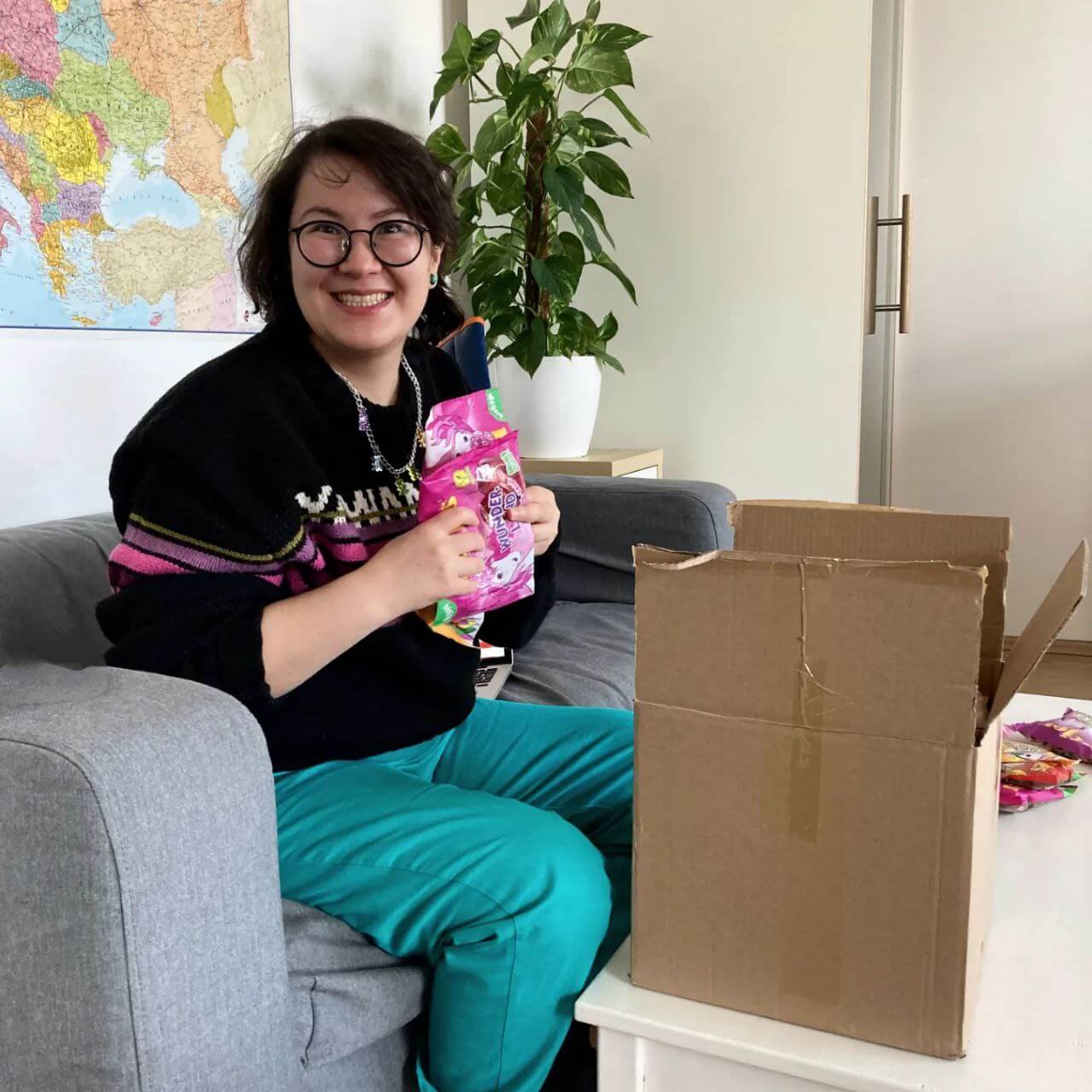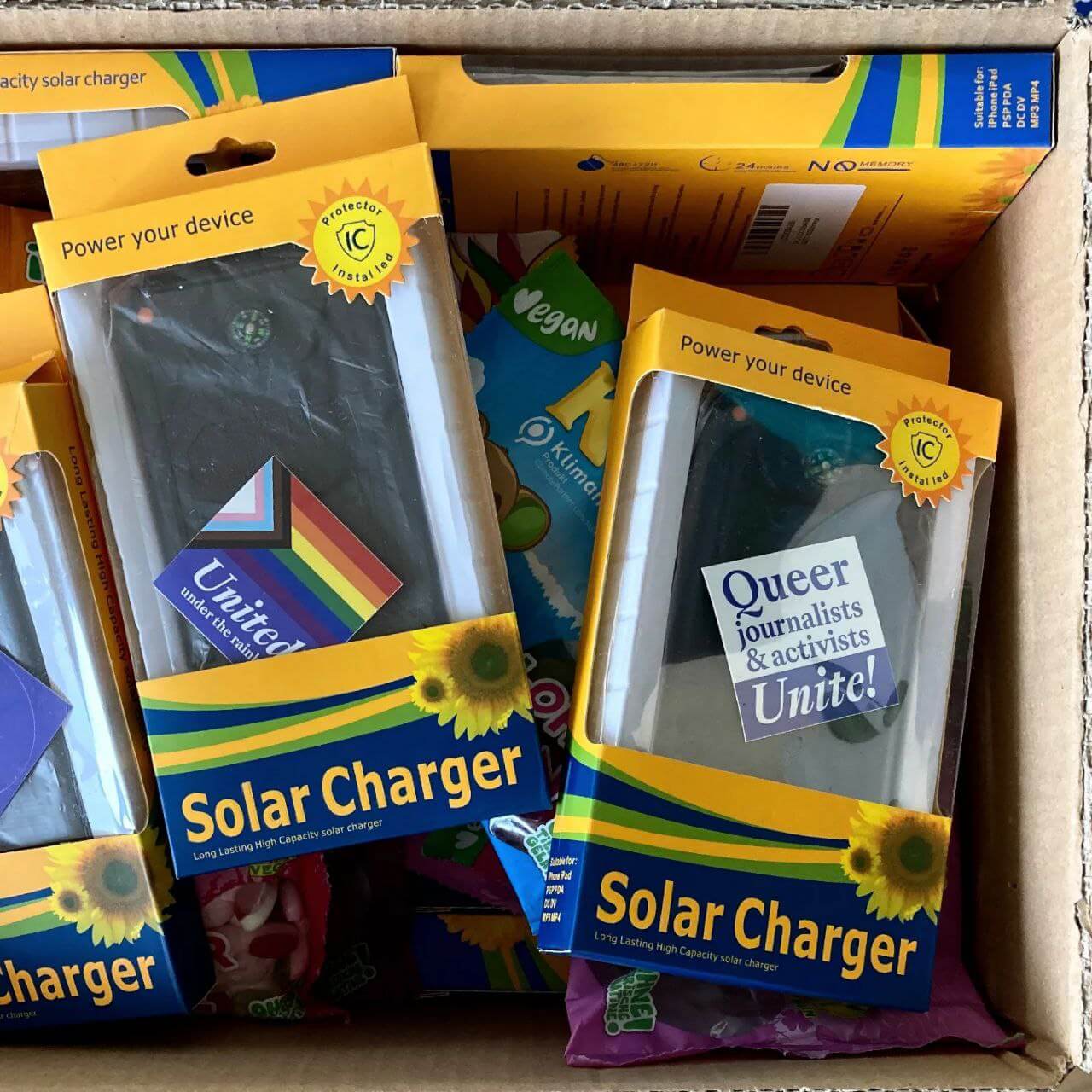 Last year was the most violent one for queer people across the region in the past decade, ILGA Europe says in its annual report. The reason are both planned attacks and suicides in the wake of hate speech. One of its few positive findings follows: "There has been much progress reported in several countries, with the Review consistently finding that it is activists and their communities who are driving positive social change and managing to push legal protection forward, despite organised opposition."  
Georgia's previous human rights strategy, which included a commitment to 'combat discrimination on the basis of sexual orientation or gender identity', expired two years ago. The renewed document, finally drawn up by the government and intended to cover the years 2023–2030, is another indication of the right turn the government has taken, and of its unwillingness to cooperate with civil society groups, Shota Kincha reports.
New poll by the National Democratic Institute with the assistance of the Kyiv International Institute of Sociology confirms the trend pointed out in other studies from the last year: the attitude of Ukrainian society towards its queer fellow citizens had radically improved in recent years. The vast majority (58%) of those surveyed generally agreed that LGBTQ people should have the same rights as other citizens of Ukraine. This data shows "that the Ukrainian society is rapidly modernizing during the wartime, increasingly moving away from the traditional values of the so-called Russian World", Nash Svit concludes.
On January 17, 2023, the European Court of Human Rights ruled that the Council of Europe countries "have an obligation to make the legal protections of marriage available to same-sex couples". Alina Mikhalkina tells the story of Tanya and Masha, who now live together in Chișinău but are unable to register their partnership.
Uralsk, the regional center of the West Kazakhstan region, does not come up in the reports of human rights defenders. To get a picture of what is happening in the city, journalist Fyodor Sitkovsky spoke with three queer residents of the city. 
On February 16, it became known that 28-year-old Idris Arsamikov, who had earlier returned from the Netherlands to Russia to visit his father's funeral, was detained in Moscow. The young man was taken to Chechnya, where he is in mortal danger, the human rights defenders say: he had left Chechnya after being detained, beaten up and tortured in the summer of 2018. Later, a video appeared on social media in which Idris stated that he was at home in Chechnya and intended to go to Ukraine to join the war, also asking the human rights defenders to "leave him alone." Lawyer Galina Tarasova states: "There were a lot of cases in Chechnya when people complained about human rights violations, and then videos appeared on the Internet with their apologies or retractions". 
Looking at their country's history, their own queerness, and their experience with civic activism, researcher and Belarusian Tony Lashden explains what helps to remain part of Belarus in any geographic location.