Unit works with 10 countries in Eastern Europe, South Caucasus and Central Asia, supporting publications on queer topics, connecting journalists and activists, and following the great work they do. Once monthly, we put together a selection of queer stories, opportunities, analysis and art to help you stay up-to-date with the ever-developing queer spaces without relying on social media algorithms. Check out this issue from December 2022 and subscribe below to get the next one right into your inbox.
It's only been a month, but we already have four Unit-supported pieces to share, two new queer podcasts from Central Asia, and several more useful and important publications from our colleagues.
Materials published with our support
Aisulu Toishibekova's podcast about female representation features activist Gulbakyt  Өtebaeva who conquered Almaty queer scene in the image of drag queen Myrza the Heartbreaker. Aisulu and Gulbakyt talked about the art of transformation, acceptance of queer identity and its reconciliation with Kazakhness. The conversation was mostly in Kazakh, so this episode of Tits talking was especially important for Aisulu.
Sasha Zhilyaev is a Ukrainian marketer, entrepreneur, one of the owners of the Ponchyk Boy donut shop chain. In this piece by Oleksandra Gorchynska, he talked about his work after the full-scale invasion, 50 thousand pies with cabbage and potatoes for the military and displaced persons, fundraising for LGBT military and the war of values. 
Marina Usmanova, director of the organization Insha, told Oleksandra Zakharova about how people lived in occupied Kherson before November 11, what basic human rights were violated there every day, and why the russian occupation of Ukrainian lands showed that human rights are always relevant.
Belarusian queer activist and member of our network Gleb Kovalsky talks about how he was forced to leave Ukraine after the full-scale invasion and about the organizations that helped queer people he knows.
In 2022, we managed to do a lot, and with the last newsletter of this year, we are sharing with you the final figures: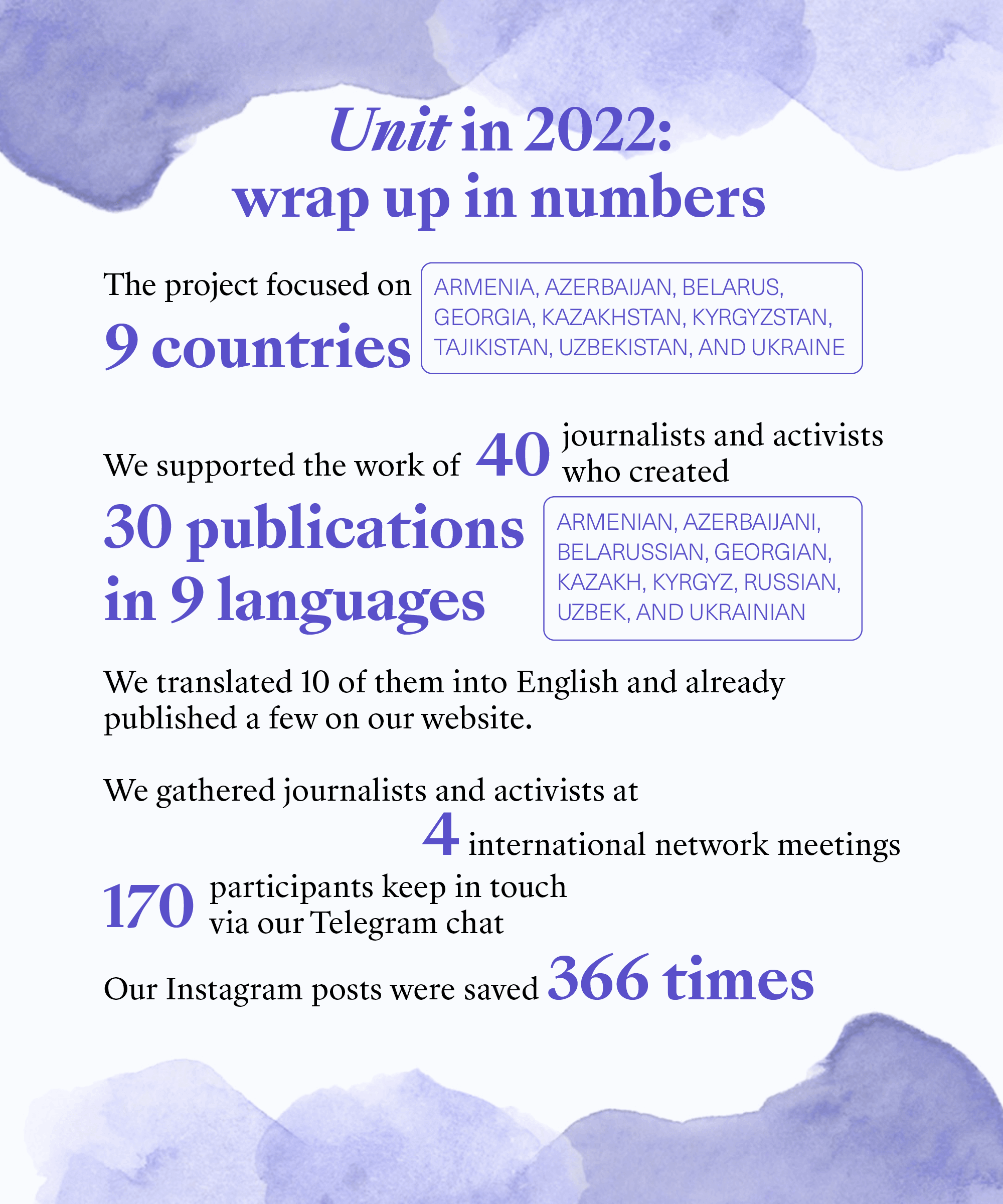 Content from our friends
Podcasts (in Russian)
In the first episode of Queer Squirt, a podcast about LGBTQ+ sex education in Central Asia, co-hosts Mira Ungarova and Mutali Moskeu discuss how to know you're not hetero, talk sex education and share stories of first sexual experiences.
And there's another launch! Very Queer Matters, a podcast about queer culture in Kyrgyzstan and Central Asia from Ajoka and Bekavana. In the pilot episode, the authors talk about how they discovered their queerness and why they adore zoomers; in the second episode, they talk about self-acceptance and coming out.
Konstantin Kropotkin's Queer Talks features the story of Alina, a queer person who was convicted on fictitious charges in Belarus and fled to Germany.
A couple of other important pieces
Nash Svit has a network of 'monitors' across Ukraine, who proactively look for reports of anti-LGBTIQ attacks — constantly checking social media networks to look for posts from victims, and follow up to document them. They put together their findings to date in a recent report. Moreover, they shared accounts of targeted anti-queer attacks against Ukrainians by Russian occupiers with OpenDemocracy: sexual violence, rape, imprisonment, assault, theft and attempted murder. 
Trans*people in Ukraine: how to take care of your safety and get help — very informative material from Trans*Coalition (the text is in Ukrainian)
New Law on LGBT Propaganda in Russia: How Do We Go On? — explained by the "Coming Out" initiative.
Our friends at Quarteera have launched a fundraiser to help queer activists leave Russia. On the site, you can read the activists' stories and help with any amount of money.