Co-owner of a doughnut shop in Kyiv on raising money for Ukraine's Armed Forces and helping LGBTQ military
Sasha Zhyliaev on his work after the full-scale invasion, 50 thousand pies for the military and IDPs, crowdfunding for LGBT soldiers, and the values war.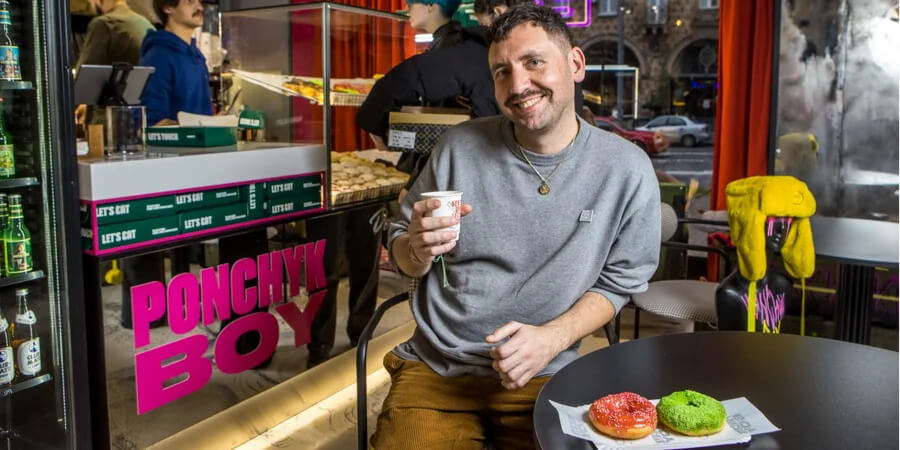 Co-owner of a Ukrainian doughnut shop chain Sasha Zhyliaev talked to NV.ua about his work after the full-scale invasion, 50 thousand cabbage and potato pies for the military and IDPs, crowdfunding for LGBT soldiers, and the values war.
Sasha Zhyliaev is a Ukrainian marketer, entrepreneur, and one of the owners of the Ponchyk Boy doughnut shop chain. His first shop opened in Kyiv in September 2021 on Yaroslaviv Val Street. In May 2022, their business spread to Dnipro, and in early November 2022, the capital saw the opening of the second doughnut shop.
Ten days into the full-scale war in Ukraine, Zhyliaev turned his Kyiv restaurant into a volunteer shop. Over the next four months, he and his fellow workers made over 50 thousand delicious fried pies, which were delivered to the military, IDPs, and patients in the capital's hospitals.
At the end of June 2022, Sasha Zhyliaev's idol, the famous American actor Sean Penn, came to the doughnut shop while on his visit to Kyiv. Subsequently, the Sean doughnut was added to the menu in his honour, and 50% of its proceeds were sent to help volunteers.
Over the months of the full-scale war, the doughnut shop participated in fundraisers to help Ukrainian defenders: for shovels, drones, charging stations and more. Dedicated crowdfunding campaigns are organised for the LGBT Military NGO.
In the interview with NV, Sasha Zhyliaev recalls what the spring of 2022 was like for him, counts how many donations are collected for doughnuts named after celebrities, and talks about the support of the Ukrainian LGBT community during the war, since he is also a part of it.
The beginning of the war, pies, and Volunteer Kyiv
"In the first days of the full-scale invasion, I brought my relatives to the west of Ukraine and returned in a few days. I just could not stay there", Sasha Zhyliaev recalls.
At that time, the Volunteer Kyiv project was launched in the Ukrainian capital by architect Slava Balbek and his partners, including the then manager of Ponchyk Boy Leila Tuvaklieva. As part of this project, in cooperation with various catering businesses in Kyiv, volunteers delivered food to multiple locations. They suggested that the doughnut shop also join this activity, and Zhyliaev immediately agreed. There were very few people in the city at that time, but some Ponchyk Boy cooks stayed, so there were people to start with. So on March 6, the doughnut shop reopened its doors after a forced break to make deep-fried pies with cabbage instead of doughnuts.
"For some time, public transport in Kyiv did not work, so we had to organise a pick-up for our cooks from another neighbourhood. We had to buy some ingredients for the pies. In the beginning, I did it all myself: I collected the products provided by Volunteer Kyiv, went shopping, picked up the cooks, brought them to the shop so that they could make these pies", Zhyliaev shares. Over time things got easier: taxi services and volunteers who were engaged in delivery helped a lot.
It is estimated that from March to June 2022, about 50 thousand pies were made. Volunteer Kyiv did the distribution: as a result, the pies were delivered to the military, hospitals, IDPs, and children. On March 21, the shop started serving the standard menu – doughnuts and coffee.
"My partners and I thought that there were many people who stayed in Kyiv. They wanted coffee, they wanted something delicious – we had to give them joy", the business owner recalls. "Moreover, the doughnut shop is located in the basement, so it can be used as a shelter. So people who needed shelter during the air alert could stay with us: at a warm place with coffee, tea and food".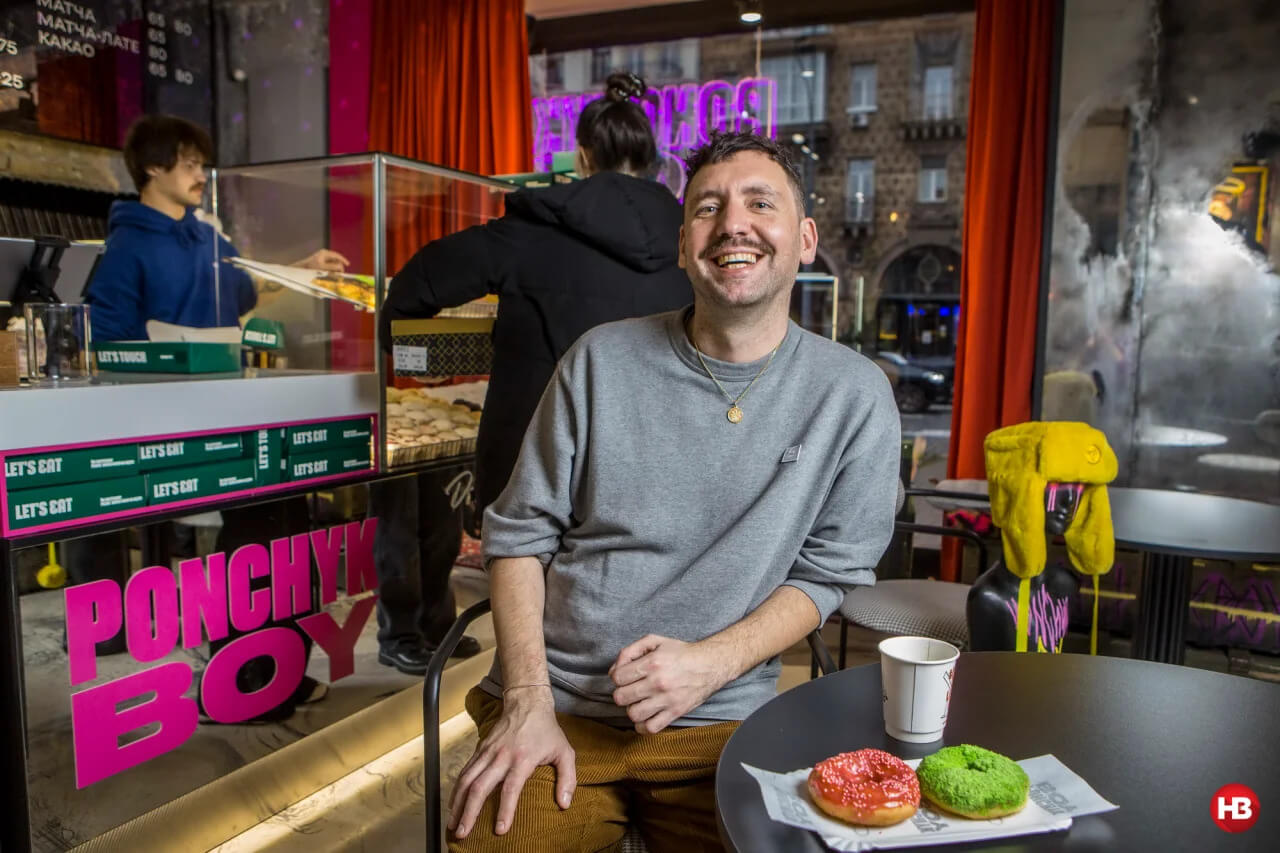 Values war
Sasha Zhyliaev is an openly gay man. He extensively supports the LGBT military in Ukraine, including by making donations. For Pride Month, the Ponchyk Boy team created a rainbow doughnut named Elton – in honour of the famous singer Elton John who is gay and has been married to Canadian film director David Furnish for eight years. 50% of the proceeds were donated to LGBT Military NGO. The NGO was founded by Viktor Pylypenko, alias French, a grenade launcher of the Donbas battalion. He was one of the first Ukrainian militaries to come out as an openly gay man. Subsequently, his example was followed by other Ukrainian LGBT servicemembers.
"I also belong to and support the LGBT community. I think that such openness, which is demonstrated, in particular, by Viktor Pylypenko, is very cool", Sasha Zhyliaev says.
On 3 August 2022, Volodymyr Zelenskyy responded to a petition to legalise same-sex marriage, which collected over 25 thousand signatures. In his response, the President noted that in wartime it is impossible to amend the Constitution, which is what is needed to grant the go-ahead to change legislation and legalise same-sex marriage.
As an alternative option, Ukrainians may well count on the introduction of civil partnerships. This will make it legal to enter into unions between people of any gender. However, in the public realm, there are still discussions about whether such innovations are timely for Ukraine today. According to Zhyliaev, Ukraine should count on the introduction of such norms soon:
"When I hear people say that this is not the time, I do not understand how human rights can be not the time. I really hope that latest next year it will be implemented".
On 1 November 2022, Ukrainian Leda Kosmachevska made a Facebook post in which she announced that she had married her military friend. He is a gay man who has been in a relationship with another man for 15 years. However, their union has no legal force, so she took this step to become a kind of legal rear for her friend.
"I will become the wife of a military man who volunteered to defend Ukraine and has been doing so since the beginning of the full-scale invasion. I take responsibility for the search of his body if he dies, identification, burial, and notification of relatives and friends. It is I who, in case of necessity, will inform the doctor that my husband wanted to become a donor. I will not ask the priest for a funeral service, because my husband did not want it. It is I who will fulfil his last will, and I will be the first to meet him when he returns victorious", Leda Kosmachevska wrote in her post.
Sasha Zhyliaev calls this step very brave and consistent. Plus, it is successful in terms of publicity. Leda managed to create a real public outcry and draw the attention of the media community and the social media audience to this issue. This, he emphasises, is a step towards a new society: Ukraine is becoming free and moving away from the values imposed on us by russia:
"To be free, to do what you think is right – these are the values for which this struggle is being waged now. This is the struggle of the old imperial world, the Soviet Union, and the world of people who think freely and live freely. And this movement is unstoppable".
When asked what that time meant for him, Sasha answers, "Sometimes I was scared, just like everyone else". He calls it "a time of difficult decisions made in unclear circumstances". And then adds:
"We live in hard times. However, we are grateful for everything that happened".
The story of the Sean Penn doughnut
"A year ago, when I worked in a well-known cinema chain, I dreamed of doing something in collaboration with actor Sean Penn. His films have accompanied me all my life. He is even starring in the last film I managed to watch before the full-scale war – Licorice Pizza", Sasha Zhyliaev shares his recollections.
So when he found out that Sean Penn was coming to Kyiv again, Sasha immediately shared his long-held dream with Daria Zarivna, Advisor to the Head of the Presidential Office Andriy Yermak. He suggested inviting the actor to Ponchyk Boy and creating the Sean doughnut named after the actor. Part of the proceeds was meant to support the Volunteer Kyiv project that was so dear to Zhyliaev.
"She said they would try to come by, but the schedule was really tight. We waited, and one day Sean Penn and Andriy Yermak visited our doughnut shop. To be honest, we were shocked", Sasha Zhyliaev shares his experience. "We had some time to talk, and I thanked Mr Penn for his support and for everything that his foundation does for Ukraine. It feels incredible to stand next to a man who won two Oscars. For me, it is still a very important and inspiring story".
All in all, the Sean doughnut generated over 1300 euros of proceeds via the Volunteer Kyiv project. This is not the only doughnut named after a famous person. On the shelves of the doughnut shop, you can also find the Volodymyr and Valerii doughnuts named after President Volodymyr Zelenskyy and Commander-in-Chief of the Armed Forces of Ukraine Valerii Zaluzhnyi.
 

View this post on Instagram

 
"We are constantly raising money for something. For example, we joined the Serrated Shovel campaign to collect money for shovels for the military. We decided to name a new doughnut after a person who donated to us – we conducted a drawing among all those who chipped in. That's how the Orest doughnut appeared. We have an ongoing campaign 'Suspended Donut' that encourages people to suspend a doughnut in one of our shops for the military", Sasha Zhyliaev says. He believes the whole of Ukraine has become one big donation box because now almost everyone collects money for weapons, equipment, humanitarian aid, uniforms, clothes, medicines and other war needs.
This article was originally published
here