The unbearable silence of Chechnya's lesbians
Alongside gay men, the purge has now reached lesbian and trans women. And while all the victims face extreme stigma in Chechnya today, for LGBT women that stigma comes with a deafening silence.
"There are no gays in Chechnya," said Ramzan Kadyrov in a now notorious interview in 2017. Two years on, it seems like the Chechen leader is trying to make good on those words by launching a new purge against LGBT people.
According to recent reports, two LGBT people have been killed and nearly forty detained in the North Caucasus region since December 2018. The Chechen authorities have apparently widened the net: alongside gay men, the purge has now reached lesbian and trans women. And while all the victims face extreme stigma in Chechnya today, for LGBT women that stigma comes with a deafening silence.
Perhaps to an even greater degree than with gay men, Chechen society cannot countenance the idea of their existence.
But I know that there are LGBT women in Chechnya. And in my attempts to contact them, I learned why they declined to be interviewed for this article. All I can do now is give voice to their fear.
That voice is all the more urgent given that the wave of violence against Chechnya's LGBT women is yet to make international headlines. As I scrolled through personal stories of LGBT people who had managed to escape and sifted through interviews with human rights activists, I couldn't find many interviews given by Chechen women. The closest thing I found were news reports on a group of feminist activists who gathered outside the Moscow offices of the Novaya Gazeta newspaper in 2017. The activists accused the Russian media of systematically excluding women from their coverage of the purges, demanding that LGBT rights organisations offer equal support in evacuating women from the region.
The Russian LGBT network, founded in St Petersburg in April 2006, is the only organisation in the country which works directly with the victims of Chechnya's LGBT purges. The network reported on the first anti-LGBT purge in Chechnya back in 2017. I reasoned that if anyone outside Chechnya knew about victims, it would be them.
Arriving in St Petersburg, I was hosted warmly by a lesbian couple in close contact with the organisation. When my host brought me to the nondescript office building where the LGBT Network is based, she dropped its cover name to the concierge before we walked in. Even here in Russia's most LGBT-friendly city, the network prefers to be known by a more neutral-sounding name than that given to the media.
"I have to start by telling you that we know nothing about the women who are currently in these prisons. And this grieves us"
The network's programme director Igor Kochetkov greeted me in his office, sitting behind a desk decorated with flags celebrating nearly every conceivable LGBT identity. Kochetkov believes Chechen women to be the most vulnerable group in the region's anti-LGBT purges, and laments at the extreme difficulty his organisation faces when trying to assist them.
"I have to start by telling you that we know nothing about the women who are currently in these prisons. And this grieves us," Kochetkov began. "We know that women were detained, that they were tortured as much as men, some were raped. We know for sure that the detention of lesbian women began in 2018.
"In the summer of 2018, we received information that two girls were detained. Their fate is still unclear. We know that in November [2018] at least two girls were also detained – they were also subjected to torture. […] Unfortunately, this is all that we can say in full certainty, because we do not know their names or where they are kept."
Nevertheless, at least 12 Chechen women have appealed to the organisation so far. All of them reported suffering threats and violence from their families and even visits from the police between 2017 and 2018.
Some of these women were successfully evacuated from Chechnya and have already left the country. While I offered to guarantee the anonymity of the women, the LGBT Network staff told me that they had either left the country already or refused to give interviews. Kochetkov explained that, having essentially been hostages in their own homes, these women were still afraid to share their stories and refused all contact with journalists.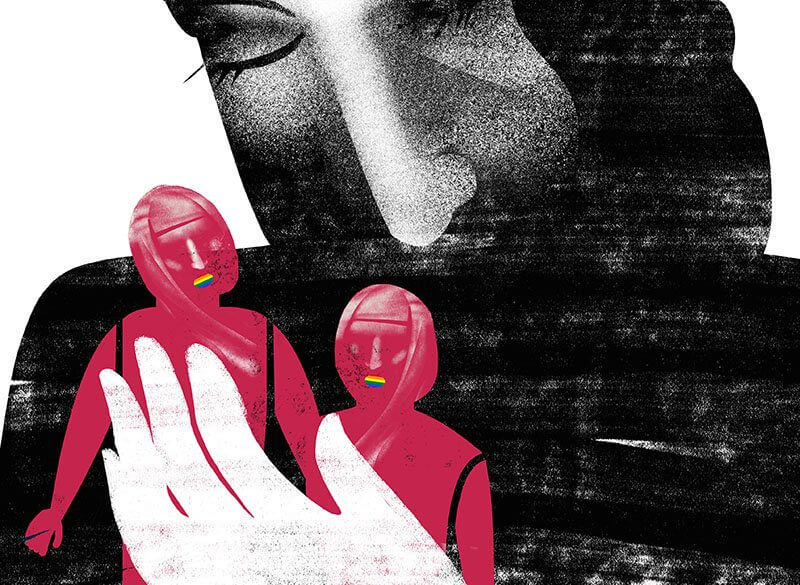 "Women are less willing to speak to journalists because they fear that their families will identify them by some details from their stories. As a rule, [Chechen] women are required to stay at home all the time, and their phones might be controlled. So fewer women request our assistance as communication is more challenging, let alone physical evacuation," added Kochetkov. "[Chechen] men can at least leave on the pretext of work or study and then claim asylum."
Kochetkov explained that Chechen society technically follows three types of law: Russian federal law, Islamic Sharia law, and Adat, Chechen customary law. While each of these systems is mutually incompatible on certain issues, the most empowered side in a conflict can choose whichever system of law suits them best. In Chechnya, the losing side in a domestic dispute is frequently the woman. For example, when a wife leaves her husband, Adat grants exclusive custody of the children to him. As the main risk for women who want to flee Chechnya is the loss of their children, Kochetkov said he was aware of some cases where the husband has had to be evacuated alongside the wife who is trying to separate from him.
As such, when a Chechen woman runs away from home, continued Kochetkov, her family will often use all the means at their disposal to retrieve her, including everything from threats of violence to enlisting law enforcement.
"A woman's family will try to get her name on the federal wanted list, meaning that police all over Russia will be searching for her," Kochetkov said. "The reasons can be absurd. But once they find her in any part of the country, the police are obliged to notify the department [back in Chechnya] that filed the missing case. Once they know where she is, the family immediately comes over. And then the police have to repatriate her to Chechnya whether she likes it or not."
Yet another group of hidden victims, concluded Kochetkov, are the wives of gay men who have fled Russia. The stigma attached to them and their children is truly enduring.
I said farewell to Kochetkov and his flags, and left the office uncertain as to how to proceed. That evening, my hosts and I sat around the kitchen table wondering which of our acquaintances might have female LGBT friends from the North Caucasus – somebody who might shed light on the everyday challenges and struggles of a Chechen lesbian. The topic turned out to be such a taboo that potential interviewees, all of them friends of friends, gave me a wide berth. They had enough problems to deal with.
Just as my search began to feel fruitless, I learned that there were other, unexpected ways for these women to speak to me.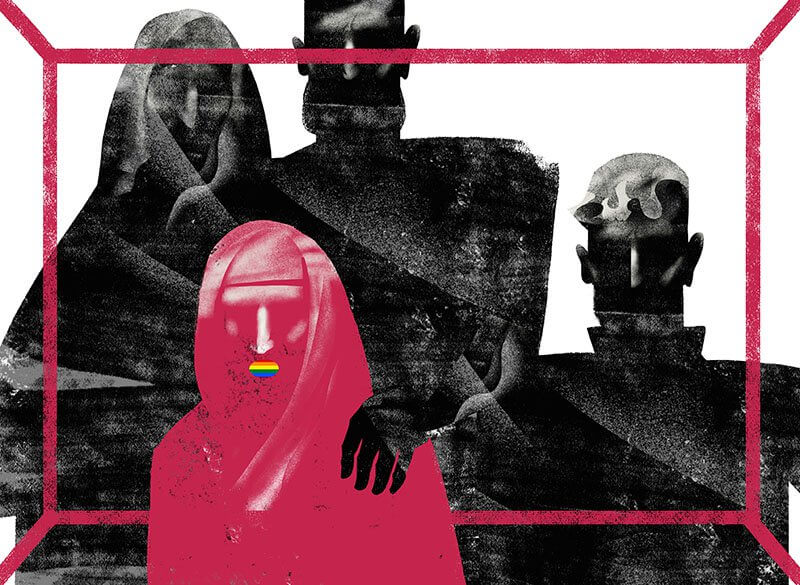 The next day, I was wading through props and decorations mounted up in a backstage corridor of a theatre in St Petersburg, and stumbled on Zhenya Muha's workshop. This tiny room of three metres square seemed even smaller under the watchful gaze of dozens of puppets: Zhenya's handiwork. A little embarrassed by my interest, she took a while to speak while I hesitated, self-conscious of being the pushy journalist.
Zhenya is from the North Caucasus, and identifies strongly with the social context in Chechnya. It's a place, she says, where women live in fear; a place where women are confined physically and socially to their homes by lieu of their gender identity, and forced to remain silent throughout it all. Zhenya's latest play, titled Voices, depicts the lives of two lesbian women and two trans women who fled Chechnya after receiving death threats. (Voices has recently finished its final rehearsal, and is due to premiere in St Petersburg in fall 2019.)
Harsh realities have forced Zhenya to become something of a ventriloquist. In 2017, she interviewed four women, whose lives she has dramatised for the first and last time. For security reasons she never spoke to them again. It's sound reasoning. If the families of her heroines ever get in touch demanding to know the whereabouts of their daughters, wives, or sisters, Zhenya can truthfully tell them that she knows nothing.
I will probably never meet these women. Neither the four heroines of Voices, nor the twelve Chechen women who bravely picked up a telephone, perhaps in the dead of night, and phoned that office in St Petersburg.
All four heroines are played by puppets on stage. As in Zhenya's other plays, the scene employs rich symbolism to depict their inner worlds without exposing the identities of the original storytellers. A fifth character will represent the Qu'ran, though what exact form it will take on stage has not yet been determined. The Qu'ran will be the focus of a dialogue highlighting the contradictions in modern interpretations of the sacred text, and those at the heart of Chechnya's LGBT purge.
"I don't just want to bring these four women onto the stage," explained Zhenya. "I want to show the horror that these women experienced through the collective imagery. A puppet as a narrator can say even more than live actors. They can depict violent scenes without shocking the audience, but also without losing a deep emotional impact."
Casting puppets not only enriches the power of metaphor on stage, but also exempts the director from the need to hire professional live actors. When it came to such sensitive subject matter as this, that was a definite advantage. Zhenya, an experienced director and playwright, knew that Russia's theatrical community had a tendency towards self-censorship over controversial topics. All of the theatre professionals Zhenya invited to work on her play abstained on various pretexts, likely out of concern for their careers.
There's no discernible trace of complaint or resentment in her voice. Zhenya completely understands their refusals: her own work also places her career at great risk.
"I mainly do puppet theatre," explained Zhenya. "Unfortunately, in Russia, puppet theatre is mostly for children. So if I decide to apply to work in a school, and they see some publication about me and my play, they probably won't hire me. I can't say that I'm not afraid, both personally and professionally. But I won't hide. It's important that I do something. And I see this as my opportunity to do something [which matters]."
But Zhenya can't do everything alone. She still needs somebody to give voice to her puppets. The current cast mostly consists of amateur actors from feminist and LGBT activist circles. One of them turned out to be my host in St Petersburg: all this time I had been much closer to the story than I thought. Ekaterina Petrova, a feminist and LGBT activist, was also born and brought up in the North Caucasus, and strongly identifies with the character she plays.
"I find a lot of similarities with this woman's character," reflected Ekaterina. "She identified as a lesbian from her early years, and tried her very best to resist the pressure she faced from her family and society, whether it meant dictating her clothing or limiting her life choices."
Ekaterina has also witnessed the region's strictly patriarchal social norms first hand as an activist and human rights defender. While there may be more information about the persecution of gay men in Chechnya, Ekaterina is also convinced that women remain the most vulnerable group in the region. She says that she has seen women physically barred from leaving homes without permission, their documents held by parents or male relatives. She also knows of many cases of so-called honour killings, mostly committed by families who have been scandalised in the public eye.
Even after dozens of rehearsals, Ekaterina is still strongly emotionally engaged with Voices. Ekaterina says that the most challenging part is when her character describes the enduring love she has for her mother, despite the pain she caused and intolerance she shows towards her daughter.
"My character says at some point that her mother still loves her. And perhaps that partly echoes with my story," Ekaterina told me. "My family doesn't have [ethnic] North Caucasus roots, but I certainly don't have very supportive parents. These days we simply do not discuss my personal relationships, even though it has already been at least seven years since I came out to my family."
"There is a proverb in Chechnya," added Ekaterina. "'If a son embarrasses himself, he puts shame on himself. If a daughter embarrasses herself, she puts shame on her whole family.' And in the current situation, it seems that the shame brought by a single woman spreads to the entire republic, and by extension the entire Chechen nation."
My search came to an end. I will probably never meet these women. Neither the four heroines of Voices, nor the twelve Chechen women who bravely picked up a telephone, perhaps in the dead of night, and phoned that office in St Petersburg. Wherever they may be now, their voices live on.
I only hope that somebody will be brave enough to listen.
This article was originally published in English
here